You can transfer a VPS from one TransIP account to another by means of an internal "Handover". This process consists of two parts:
Initiating the transfer from the original account
Accepting the transfer from within the new account.
Some services cannot be transfered when using a handover for a VPS:
The services above are not transfered because they are considered seperate services that may also be used on other VPSs. For transfering a Big Storage disk, consult this article. For transfering a HA-IP, consult this article.
VPS-Firewall configuration in the control panel are also transfered.
---
Initiating the transfer
Step 1
Log in to your control panel, navigate to the 'BladeVPS' tab and click the name of your VPS on the left.
---
Step 2
In the top right, click on 'Manage', followed by 'Handover'.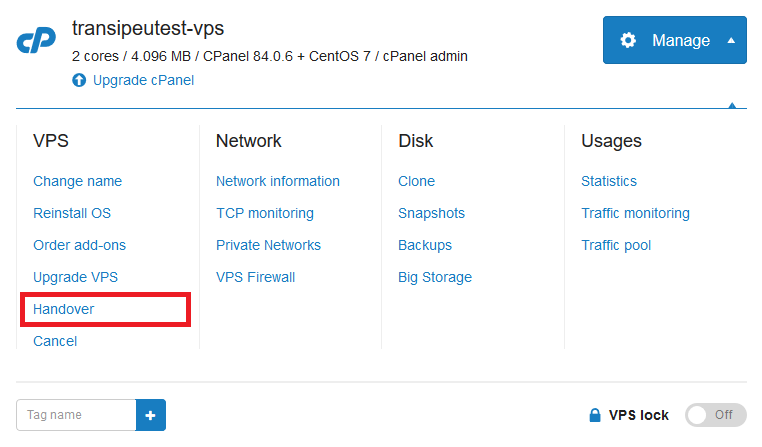 ---
Step 3
Enter the TransIP account-name you wish to transfer the VPS to and select 'Handover'.

---
Accepting the transfer
Step 1
Log in to control panel of the receiving account and click the account-name of the account on the top right-side of the interface followed by 'My Account'.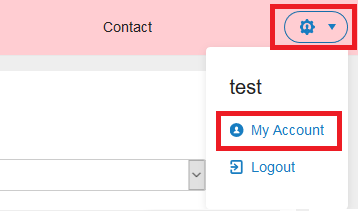 ---
Step 2
Select the 'Transfers' tab.
---
Step 3
Select the H-number which lists the VPS that is being transferred.

---
Step 4
Click on 'Accept'. The transfer is now complete!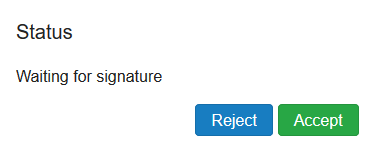 Handovered VPSs will always be renamed to the name of the new account and will be briefly turned off to affect the changes. Keep this in mind and don't transfer your VPS when its in use.
---
Should you have any questions left regarding this article, do not hesitate to contact our support department. You can reach them via the 'Contact Us' button at the bottom of this page.
If you want to discuss this article with other users, please leave a message under 'Comments'.