PHP is included with all our web hosting packages. This is a coding language used to create dynamic web pages on web servers. This language is provided in several versions, which is why you can select different versions with TransIP.
The PHP version of your website affects the speed and security of your web site. This means using newer PHP versions leads to more secure and faster web sites. This article shows you how to change the PHP version of your web hosting package to another supported version.
Take note: We currently support PHP versions 7.4, 8.0 and 8.1.

Web Hosting packages that are newly created, automatically use PHP 8.1.
---
Changing the PHP version
You can change the PHP version of your web hosting package to another available PHP version when you're logged in to your control panel. To do so, head to the tab 'Domains & Hosting' at the top of the control panel.
Next to 'Your website', click on the cog wheel, followed by 'PHP options'.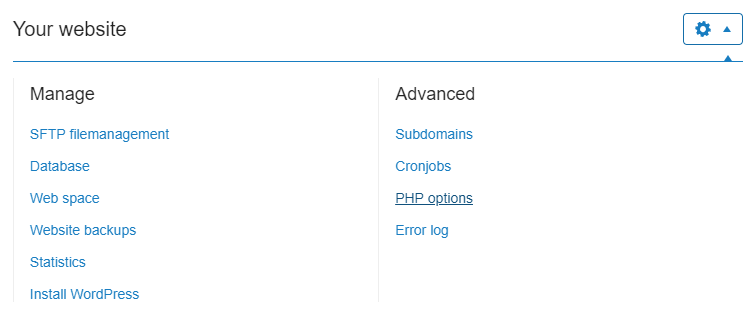 ---
You can change the PHP version by selected the desired version in the dropdown menu and clicking on the 'Change' button.

---
Display Errors
On the same page you can see the option 'Display Errors'. By enabling this option, any error messages present on your web site will be actively displayed on your actual web site. Using this option is great for debugging your web site when it is still under construction.
If you don't want these errors to be displayed on your web site, you will always be able to see any errors in the 'Error Log' section of your web hosting package in your control panel.
Head back over to 'Manage your website' and click the cog wheel once more. Now click on 'Error Log' to show any errors present on your website.
---
Errors after changing my PHP version
It's possible to see errors on your web site directly after changing the PHP versions. This usually means that plug-ins (WordPress) or extensions (Joomla!) on your web site are outdated and no longer compatible with the newer PHP version. The article 'Error messages when updating the PHP version of your website' contains several tips on troubleshooting this.
---

In this article we talked about changing the PHP version of your website and how to display any PHP related error messages on your web site.
If you have any questions regarding this article, do not hesitate to contact our support team. You can reach them by using the 'Contact us' bottom at the bottom of this page.
If you wish to discuss this article with other users, feel free to leave a message below.