As of 25 May 2018, the GDPR (General Data Protection Regulation) applies. The GDPR determines how companies must deal with personal data of their users.
How this data is handled is included in data processor agreements. Companies, including TransIP, are obligated to offer data processor agreements and to ensure that all rules contained therein are being upheld.
A distinction is made between the controller and the processor. The controller is the party that provides the personal data to the processor. 
If you purchase services from TransIP, you agree that we process your personal data. This makes TransIP the processor and you as the customer the controller.
If you offer services to your customers as a reseller via TransIP, you are the processor and your customers are the controllers. TransIP then acts as a sub processor because you purchase your services (such as a VPS or web hosting packages) from us.
We offer a data processor agreement for both situations. You can download, view and sign these agreements via your control panel.
Go to 'My Account' in your control panel and scroll to the bottom of the page. You will find the option to view and accept the data processor agreement on the right side.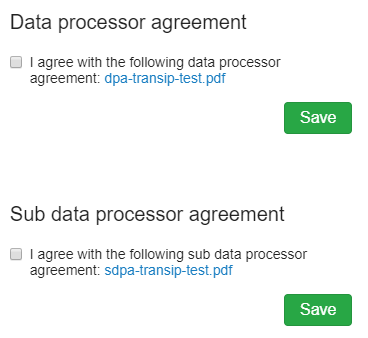 For more information about how we process personal data, please refer to the article 'Your GDPR privacy rights at TransIP'.